Published:

Modified:
The Federal Court today ruled that the definition of "parent" should be plural, in its verdict in the unilateral conversion case involving the children of M Indira Gandhi and her ex-husband Ridhuan Abdullah.
This is a departure from the 2007 verdict in the case of R Subashini vs T Saravanan, which saw the Hindu wife instructed to seek recourse through the Syariah Appeals Court with regards to her Muslim convert husband converting their children to Islam without her consent.
Court of Appeal president Justice Zulkefli Ahmad Makinudin, who led the bench, said the decision was unanimous, and stressed that although unilateral conversion is a contentious issue, today's decision was not swayed by religious convictions.
Federal Court judge Justice Zainun Ali, who read the 99-page unanimous decision, ruled that the civil court has jurisdiction to review the actions of the Registrar of Muallafs, which is one of the respondents, if there is illegality.
Three questions of law were posed to the court:
1) Whether the High Court has exclusive jurisdiction, pursuant to Sections 23, 24 and 25 and the Schedule of the Courts of Judicature Act 1964 (read together with Order 53 of the Rules of Court 2012) and/or its inherent jurisdiction to review the actions of the Registrar of Muallaf or his delegate acting as the public authority in exercising statutory powers vested by the Administration of the Religion of Islam (Perak) Enactment 2004;
image: https://i.malaysiakini.com/654/022363628179af67a52015c9d01b16f6.gif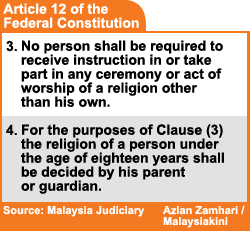 2) Whether a child of a marriage registered under the Law Reform (Marriage and Divorce) Act 1976, who has not attained the age of 18 years, must comply with both Sections 96 (1) and 106 (b) of the Administration of the Religion of Islam (Perak) Enactment 2004 (or similar provisions to state laws throughout the country), before the Registrar of Muallaf or his delegate may register the conversion to Islam of that child; and,
3) Whether the mother and father (if both are still surviving) of a child of a civil marriage must consent before a certificate of conversion to Islam can be issued in respect of the child.
The court answered all three questions in the affirmative, and ruled that the Registrar of Muallafs has no right to register a child if he or she does not recite the Islamic affirmation of faith, the

kalimah

syahadah.
Thus, the court ruled that the permission of both parents is needed in changing the faith of the child, and in doing so, set aside the decision of the Court of Appeal.

Read more at https://www.malaysiakini.com/news/410360#x0TZ2M4tfDQFHCRd.99