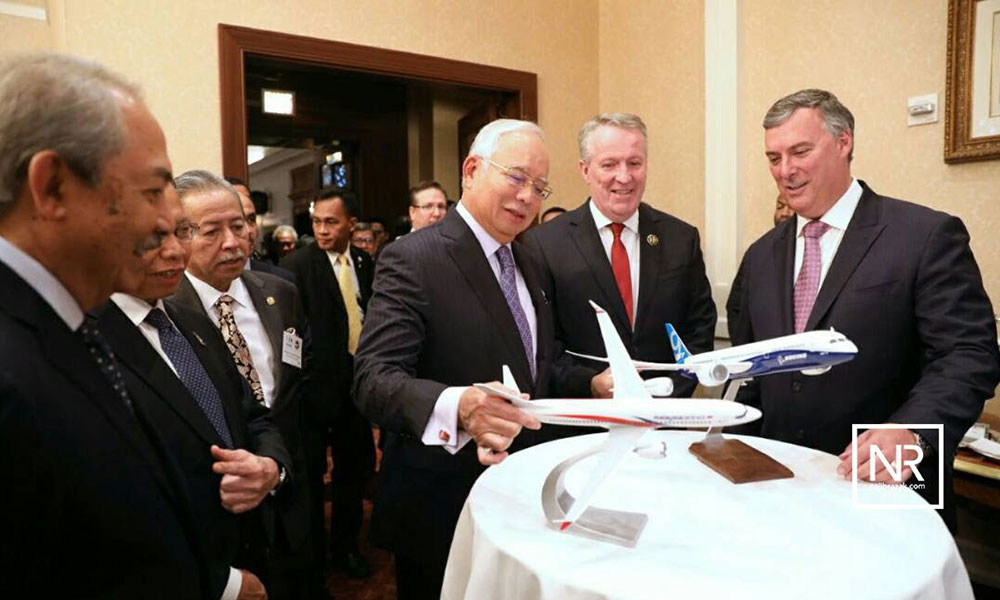 A QUESTION OF BUSINESS

| Prime Minister Najib Razak had to dig deep to offer US President Donald Trump something tangible but even the much-touted US$10 billion, or RM43 billion, Boeing jet purchases turn out to be less than what they seem.
In his meeting with Trump earlier this month, Najib offered three things to help the US economy, including what Trump said was US$10-20 billion to buy Boeing jets and General Electric engines. Najib thanked Trump for the meeting and said that he came with a value proposition to "strengthen" the US economy.
"I come with three specific proposals," he said. They were:
1. Increase the number of Boeing planes committed from 25 B-737s and eight 787 Dreamliners with the "strong probability not possibility that 25 more 737 Max10" will be bought in the near future. Within five years, these would be worth "beyond RM10 billion". Also, Najib said he will try and persuade AirAsia to buy GE engines.
2. The Employees Provident Fund (EPF) has so far invested over US$7 billion in equity in the US and intends to invest a further US$3 billion to US$4 billion "to support your infrastructure re-development in the US".
3. Malaysian sovereign fund Khazanah Nasional has investments of US$400 million in Silicon Valley in high-tech investments. It intends to increase investment here.
Enough has been said about his proposals to "strengthen" the US economy and the US$10 billion plus purchases of Boeing jets taken together with EPF's and Khazanah's investments will be a mere drop in the ocean of an economy in 2016 of nearly US$19 trillion (over RM80 trillion). Even US$20 billion is just 0.0001 percent of US$19 trillion, showing how little Najib's offers will help the US economy!
The EPF already has a policy of overseas equity investments and the US, which has the largest equity market in the world, must be a major target market for the EPF already to diversify its portfolio and increase its returns - nothing new there. Ditto for Khazanah Nasional's US$400 million investment in Silicon Valley which may increase in the future.
But even the RM43 billion that Malaysia is offering in terms of jet purchases may well not turn out to be the full sum that Malaysia Airlines will spend on Boeing jets.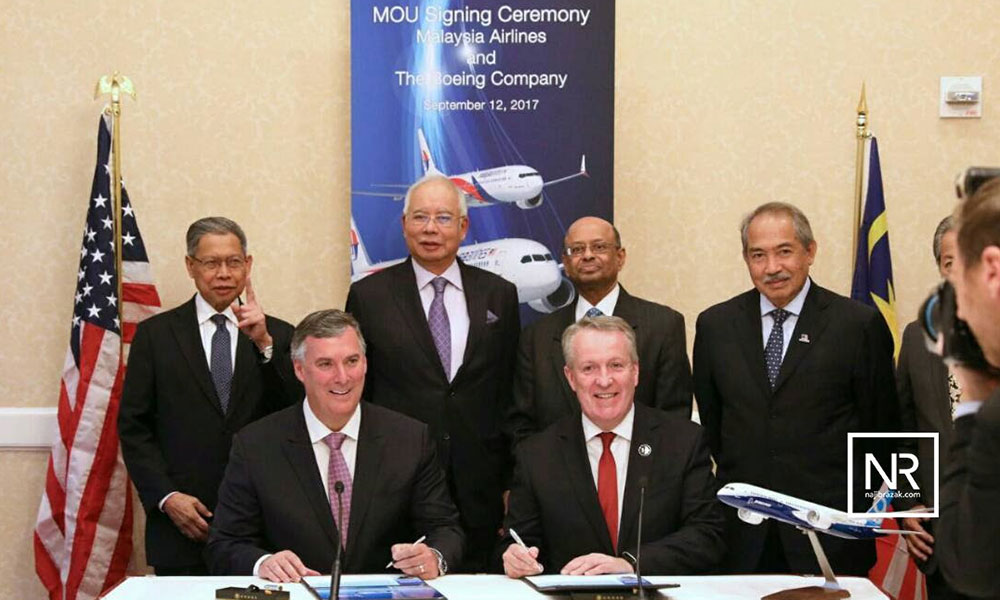 After confusion over its future fleet policy and purchases, with talk of reopening European routes closed during the rationalisation and flying again to the US west coast and seeming contradiction with its earlier fleet programme, Malaysia Airlines issued a statement to clarify the proposed purchases.
The airline said it has a firm order of 25 Boeing 737 aircraft "with everything else being optional".
"The options, as well as a variety of other arrangements including the recent MoU with Boeing, will allow us to have some flexibility in deciding which aircraft suits our operational environment best," it said.
Disingenuous offer
In 2016, Malaysia Airlines made 25 firm orders for the 737-MAX8 aircraft and 25 options. The statement said. "The aircraft were ordered as pure replacements for existing planes, due for replacement beginning 2019."
"In June 2017, we entered into a new agreement with Boeing to allow us to choose their new larger 737-MAX10 aircraft for 10 out of the previous firm order of 25 737-MAX8. With this agreement, Malaysia Airlines can decide to take either the MAX8 or MAX10. The MAX10 aircraft are expected to commence delivery in early 2021."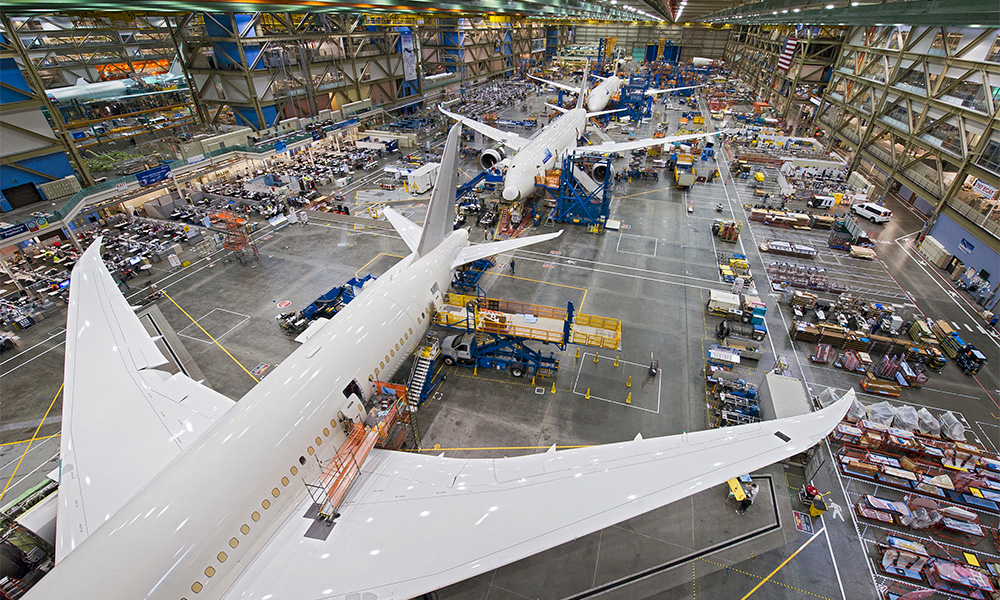 That means the only firm order is for the 25 Boeing 737-MAX8 and MAX10 aircraft. While the statement did not give the cost, at a price of around US$100 million a plane, 25 will cost around US$2.5 billion or RM10.8 billion, about a quarter of the RM43 billion of Boeing purchases bandied about.
But the addition of the eight Boeing 787 Dreamliners is something new, although it remains an option for now as well as the additional option to purchase a further 25 Boeing 737s. However, Najib's statement at the meeting with Trump implied the Dreamliner purchase was already committed while there was "probability not possibility" of the extra 25 Boeing purchases.
Malaysia Airlines said in its statements that it has been exploring various options for widebody aircraft, for possible delivery in 2018 and 2019, "to address the rapid growth in international sales which requires additional wide-body aircraft".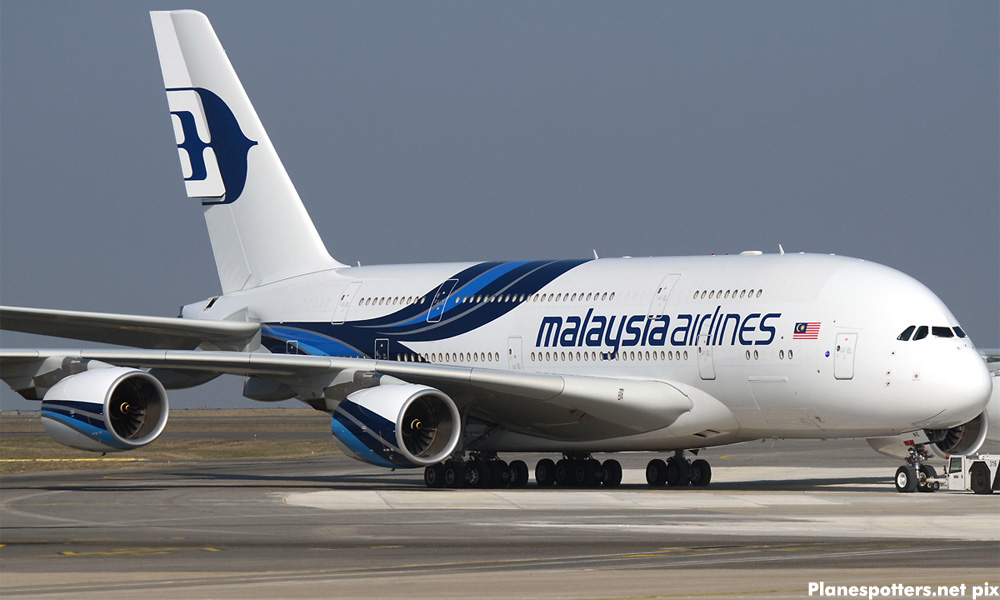 While it has been talking about replacing the Airbus 380 on the KL-London route with the lower capacity Airbus 350, there was no previous discussion of using the Dreamliner for any of the routes it has been planning to reopen or initiate.
Malaysia Airlines said the list price for the eight Boeing 787-9 Dreamliner aircraft is some US$2.5 billion and it "will negotiate extensively to ensure the best value on confirmation of order".
It added that if the order is confirmed, the initial 787-9 Dreamliner deliveries are planned for operating Asian services. "The growth of the Malaysian economy and the increasing globalisation will allow these aircraft to commence new long-haul services from 2020 onwards if sufficient profitable demand exists," Malaysia Airlines said.
Clearly, Malaysia Airlines is still rethinking its options for its fleet. For Najib to use this process and to further even offer to persuade AirAsia to buy General Electric engines from the US is rather disingenuous to say the least and puts these two Malaysian airlines in a needlessly uncomfortable position, constraining their full range of options.
That has all the hallmarks of not just political expediency but desperation to show publicly that the US, despite the extensive investigations of 1MDB by its Department of Justice which has unearthed at least US$4.5 billion in theft, still endorses him as a leader.
But it looks like that Boeing deal and the other announcements have boomeranged on him, putting him on even more a slippery slope than before. It will be pretty hard for Najib to spin that the Trump meeting was a triumph although attempts are being made to do just that.
---
P GUNASEGARAM says suppressing truth is much like holding a ball under water - it has a way of surfacing and resurfacing despite attempts at keeping it submerged. E-mail: t.p.guna@gmail.com.

Read more at https://www.malaysiakini.com/columns/396288#PVSHG48Sg7ec25jY.99