Former premier Dr Mahathir Mohamad has thrown his support behind PKR de facto leader Anwar Ibrahim as prime minister, if he can obtain a pardon from the King.
Mahathir, who thwarted Anwar's meteoric rise in politics by sacking him as deputy prime minister in 1998, said this in an interview with The Guardian during a recent visit to London.
"In the case of Anwar, we can make a case that he was unfairly treated. The decision of the court was obviously influenced by the government and I think the incoming government would be able to persuade the King to give a full pardon for Anwar," Mahathir reportedly said.
"In which case, he would be able to participate in politics and become PM. I can have no objection to that."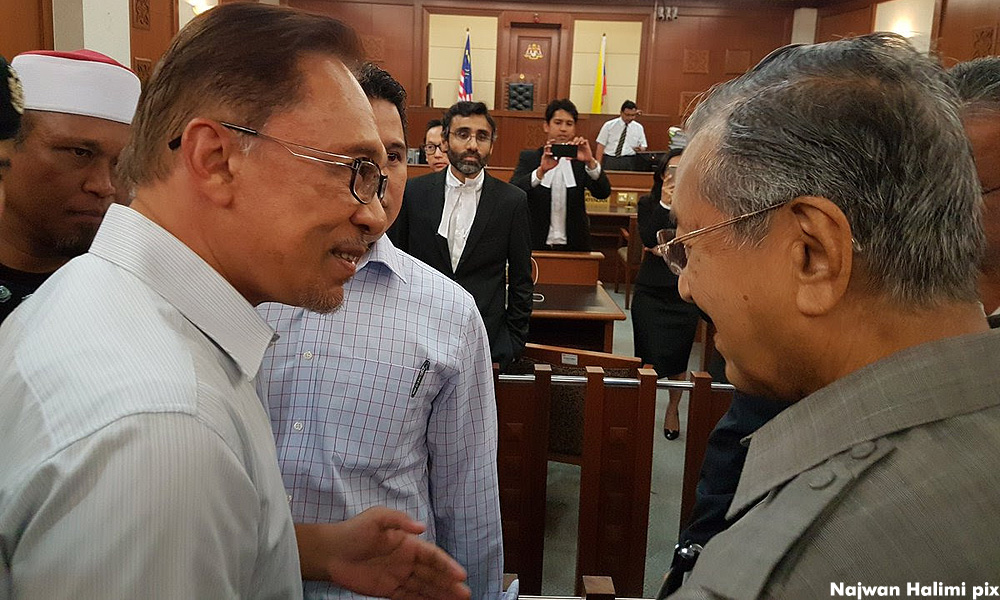 The question of who will lead the government if Pakatan Harapan comes into power in the next general election, expected as early as September, has caused some strain in the coalition.
Mahathir, who was pushed forward as an interim PM by his allies in the coalition, said he would not object if offered the position.
His failure to hold up a placard naming Anwar as PM candidate at a recent PKR congress also caused a stir in political circles.
Lack of consensus within Harapan on leadership line-up is also delaying the coalition's registration, it was reported.
Mahathir leads Harapan coalition member Parti Pribumi Bersatu Malaysia, which he founded with his son and former Kedah menteri besar Mukhriz Mahathir, former deputy prime minister Muhyiddin Yassin and several other defected Umno leaders.
Anwar is serving a five-year jail sentence for sodomy, a charge he continues to refute and which human rights groups claimed was politically motivated.
He was jailed in February 2015, and must serve a mandatory five-year ban from electoral politics upon his release.
Anwar was first jailed for corruption and sodomy in 1998, with Mahathir accused of masterminding the persecution.
The arrest sparked mass protests and arrests of activists in Malaysia, giving birth to the Reformasi movement which changed the landscape of Malaysian politics.
In a recent interview with Channel News Asia, Mahathir stressed that he never resorted to anything illegal during his 22-year tenure as PM.
~ Malaysiakini