Published Updated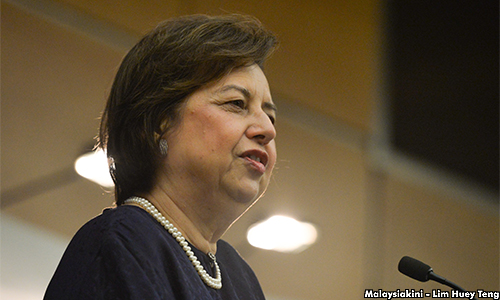 Former Bank Negara Malaysia (BNM) governor Zeti Akhtar Aziz said there was not much the central bank could do about 1MDB other than issuing "the highest administrative fine" in Malaysian history.
She said Bank Negara does not have the power to prosecute, though they are always ready to provide assistance to any institutions who can do so.
"(People) had higher expectations from us but Bank Negara does not have the power to prosecute.
"We do not have the power to fulfill the expectations on us, but we support the agencies which have those powers," she said, as reported by Sin Chew Daily yesterday.
"Bank Negara has already fined relevant agencies and financial institutions which acted against the law (in 1MDB's case). I would say, this is probably the highest fine in this country's history.
"This is what Bank Negara can do," she added.
On April 28, 2016, Bank Negara issued an administrative fine to 1MDB for failing to adhere to the Financial Services Act 2013. The state fund was given until May 30, 2016, to pay the fine.
However, Bank Negara has yet to reveal the actual amount of the fine imposed on 1MDB up till today as it is against Bank Negara protocol to reveal specific details in individual cases.
About two weeks after the fine was issued, the current Bank Negara governor Muhammad Ibrahim said they have ended their investigations into 1MDB's affairs as 1MDB has stated its commitment to pay the fine before the deadline.
In this first local interview since her contract as Bank Negara governor ended last April, Zeti also admitted that the 1MDB case was one of the most challenging things she had to handle in her stint as the governor.
Bank Negara's main responsibility in dealing with the 1MDB case was to ensure that the country's financial system was not damaged.
"Bank Negara has well-written laws, such as the Central Bank of Malaysia Act 2009, Financial Services Act 2013 and so on, to protect the financial system and ensure it is managed in a stable, transparent and healthy way," she said.
When asked if she was disappointed in how the 1MDB investigations turned out, she said, that as a Bank Negara officer, she has to set personal feelings aside to prevent it from affecting her duties.
"Bank Negara staff are not like other people. We have to learn to focus on the job.
"This is because our duty is to the rakyat and the corporate world, and not to our own personal feelings.
"When faced with disappointment, the support shared among members of the central bank is very important.
"We realise Bank Negara is very important to the country. We do not want it to be damaged. This is what I always prioritised," she said.
~ Malaysiakini