Published Updated
Inspector-general of police Khalid Abu Bakar must recuse himself from investigating the claims made by website Sarawak Report, Puchong MP Gobind Sigh Deo said today.
His call came after Khalid this morning confirmed the website's allegation that an alleged main suspect in the Malacca police racketeering case is known to him.
Gobind, who is from DAP, said this placed the IGP "in a position of conflict".
"So, why is he calling the shots? That cannot be right. He should not involve himself in the RM9.5 million probe or in any other matter in which Sarawak Report or (its editor) Clare (Rewcastle-Brown) are involved at all," he said in a statement.
Sarawak Report earlier alleged that Prime Minister Najib Abdul Razak paid prominent lawyer Muhammad Shafee Abdullah a fee of RM9.5 million.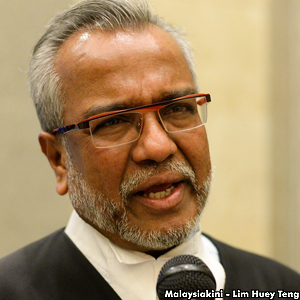 The Prime Minister's Office did not respond to media queries on the claim while Shafee (photo) said last week that he would issue a media statement on the matter. So far no statement has been been forthcoming from him.
Gobind said it is also not for the IGP to decide if the claims are hearsay.
"That should be a decision made by the public prosecutor and later, by a court of law after investigations are completed," he said.
He said the police could easily verify the claims by obtaining the necessary documents and bank statements.
"That is, if the police don't already have possession of the relevant documents, despite the fact that the SRC investigation is ongoing," he said.
According to Sarawak Report, Najib had paid Shafee the RM9.5 million in two tranches from the same account into which SRC International funds were transferred.
Shafee had acted as chief prosecutor when jailed opposition leader Anwar Ibrahim's Sodomy II case was heard in the higher courts.
The allegation by Sarawak Report prompted Anwar to file an originating summons last week to have his conviction declared null and void.
Malaysiakini is not able to independently verify the report by Sarawak Report or confirm if the alleged payment was related to Shafee's role in Anwar's case.
Communications and Multimedia Minister Salleh Said Keruak yesterday advised Malaysians not to give much weight to Sarawak Report, which he described as unreliable.